Luxury, spacious 6 bed upper maisonette in the heart of Jesmond with ensuites.
Recently refurbished, 30 Seconds from West Jesmond Metro Station. Brentwood Avenue is home to many favoured shops and cafes including the famous Arlo's. Near Tesco, Waitrose, Starbucks and Acorn Road Shops and Cafes. 2 min walk to Osborne Road bars. 2 min walk to Jesmond Pool and Gym. 15 walk to Northumbria and Newcastle University and Newcastle City Centre.
Property Features
Recently fitted kitchen with 2 fridge freezers, integrated oven, washing machine & tumble dryer
Large living/dining room furnished with dining table & chairs and leather sofas
2 bedrooms with en suite, 1 with w/c
6 good sized double bedrooms furnished with high quality ikea wardrobe, chest of drawers, desk, chair, 3/4 bed, and bedside table
2 newly fitted bathrooms with shower over bath
Fully compliant with HMO regulations
Bills included offer is available
Gas Central Heating, alarmed, double glazed
Laminate flooring throughout
Council Tax Band: Exempt (subject to full student occupation)
Holding Deposit (to reserve the property): £768 (total for property), £128 each.
EPC Rating: C
Recently Refurbished
Fully Furnished
Dining Area
Washing Machine
Tumble Drier
Double Glazing
Yard to Rear
Gas Central Heating
Laminate Flooring
Leather Sofas
LCD TV
Alarmed
Parking(Permit Parking on Street)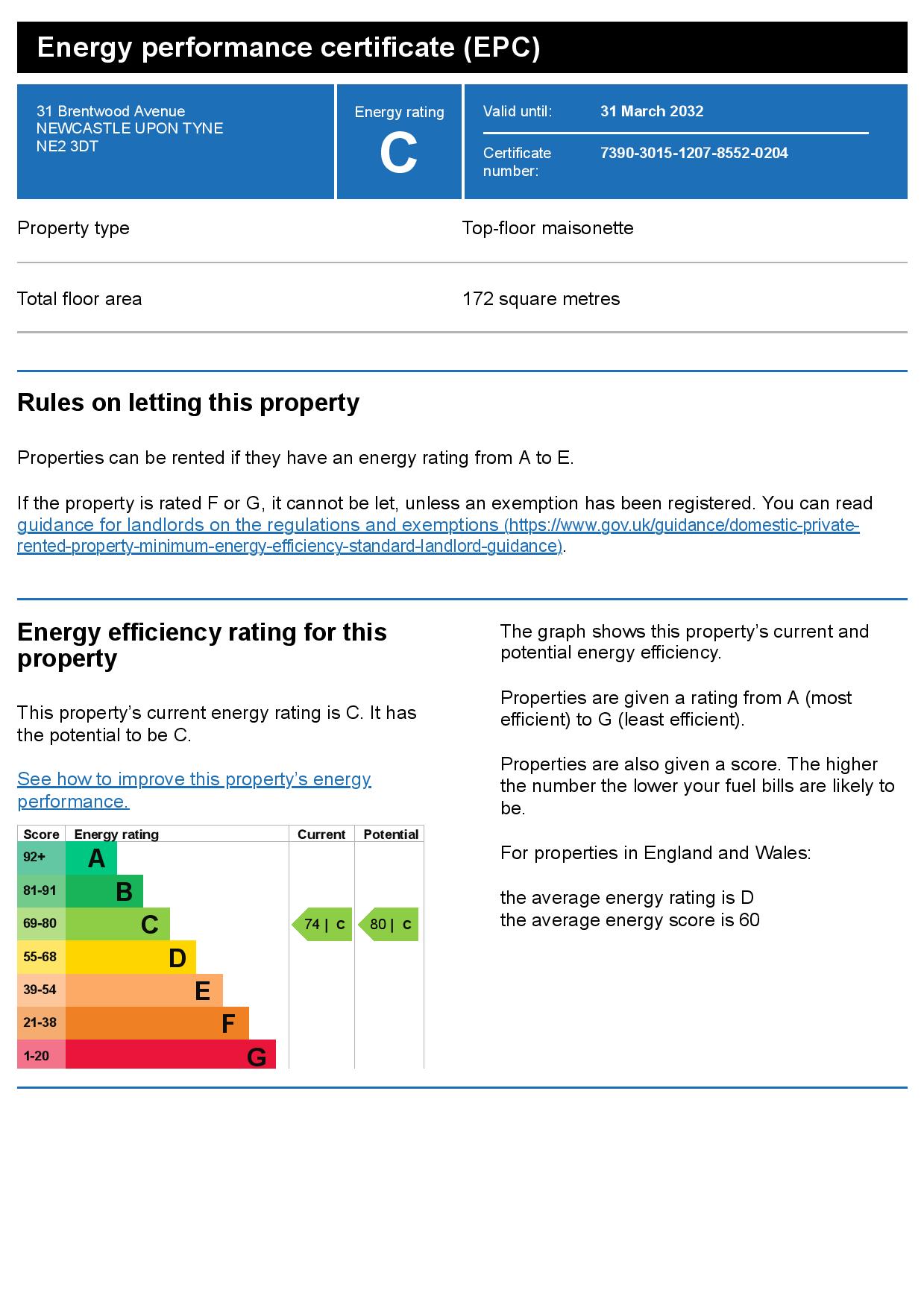 Distance to:

Osborne Road - 0.77 miles
Newcastle University - 1.14 miles
Northumbria University - 1.14 miles
Coachlane Campus - 1.60 miles
Before the Tenancy Starts: (Payable to Ridley Properties 'The Agent'):
Holding Deposit: Equal to one week's rent (inc VAT) per tenant to secure the property.
So long as tenant(s) agree to sign the Tenancy Agreement and complete their paperwork within one week, this holding deposit will be taken as part payment towards the first months rent.
If tenants do not proceed, this fee will be withheld
Advance first month rent:
Equal to one calendar months rent calculated by taking weekly rent amount, multiplied by 52 weeksin a year, divided by 12 months. Any 'Holding Deposit' paid will contribute towards this payment.
Damage Deposit:
Payable just before the Tenancy commences, each property will be subject to different damagedeposits. Some are flat fees, others are calculated based on monthly rental figure rounded up tonearest ten pound value. This will be defined clearly on all property advertising.
DURING YOUR TENANCY (Payable to Ridley Properties 'The Agent'):
Replacement Tenant Fee:Payable fee of £50 (inc VAT) by the vacating tenant for:
Issuing vacating tenant surrender of tenancy agreement forms to sign
Issuing Agreement to replacement tenant forms for remaining tenants to sign
Creating new tenancy agreement and issuing to all tenants to sign
Plus any additional reasonable costs incurred for:
Conducting additional viewingsContract negotiation
Replacement Keys during or at the end of Tenancy when keys are not returned:
Payable fee of £24 per key (inc VAT)
Individual Bedroom Lock (at the request of Tenant):
Payable fee of £60 per lock (inc VAT) (subject to each Landlord) for:
- Purchase of HMO regulation lock with one key and full installation.
Late Rent:
Payable fee of £30 per transaction if rent is more than 14 days late. Payment of interest at a rate of 3% per annum on any late payment of rent commencing from 3 days
the 'due date' of rent.
During Your Tenancy (Payable to the provider) if permitted and applicable:
Utilities:
Gas, Electricity and Water bills
TV Licence:
Where a TV is included, payable fee of cost of TV licence directly to TV licencing.
Council Tax:
Payment of Council Tax to local authority where applicable (Students are exempt from this)
OTHER FEES:
Out of Hours Services £60 per hour (inc VAT) plus any actual costs incurredWhere actions of the tenant results in the agent (or nominated contractor) attending the property,time to remedy the situation is charged at the prevailing rate.
Tenant protection
REDRESS SCHEME
We are registered with The Property Ombudsman: https://www.tpos.co.uk/
CLIENT MONEY PROTECTION
We are part of UKALA who provide us with total loss Client Money Protection.You can find more details about this on their website: https://www.ukala.org.uk/client-money-protection-cmp/
If you require a copy of our certificate please email us.